Once again, two conferences and a trade fair will be held under one roof: HK 2023 – The Heat Treatment Congress, is the largest European congress on topics of heat treatment and materials technology, manufacturing, and process engineering. The second event is SI 2023 – The new Steel Innovation Scientific conference on innovations in materials technology, production, processing, and application of steels.
SECO / WARWICK, as the 1st Choice Supplier, will present modern, energy efficient and ecological vacuum heat treatment equipment at the European Conference Heat Treatment 2023 fair and our expert Paweł Okińczyc will present a lecture on top SECO/WARWICK's technology:
/ Date: October 26th, 01:15 pm
/ Speaker: Grzegorz Głuchowski
"Low Pressure Carbonitriding – heat treatment suited for a sustainable future"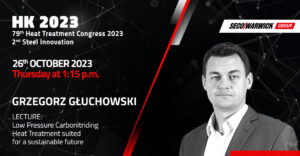 Discover top solutions for green heat treatment of metals at our stand:
Visit our booth #F-039 and get to know our experts.
The SECO/WARWICK team would love to meet you at this event!
Schedule an appointment:

events@secowarwick.com
Before you schedule an appointment, please get to know with SECO/WARWICK Information Clause and Privacy Policy
More >>>
Personal data is processed for the purpose of scheduling an appointment with you. The data controller is SECO/WARWICK S.A., with headquarters in Świebodzin, ul. Sobieskiego 8, 66-200. You may contact us by sending a letter to our address or by sending e-mail to RODO@secowarwick.com.
As a data subject you have the following rights: a right to request from the data controller access to and rectification or erasure of your personal data or restriction of processing or to object to processing as well as a right to data portability. You have also the right to lodge a complaint with the data protection supervisory authority, which in Poland is the President of the Personal Data Protection Office (Prezes Urzędu Ochrony Danych Osobowych). Information about competent supervisory authorities for other countries is available at https://edpb.europa.eu/about-edpb/board/members_en.
More information on personal data processing can be found in our Privacy Policy available at: https://www.secowarwick.com/en/data-privacy/.
Calendar
/

of Events

December 2023
| | | | | | | |
| --- | --- | --- | --- | --- | --- | --- |
| M | T | W | T | F | S | S |
| &nbsp | &nbsp | &nbsp | &nbsp | 1 | 2 | 3 |
| 4 | 5 | 6 | 7 | 8 | 9 | 10 |
| 11 | 12 | 13 | 14 | 15 | 16 | 17 |
| 18 | 19 | 20 | 21 | 22 | 23 | 24 |
| 25 | 26 | 27 | 28 | 29 | 30 | 31 |
| &nbsp | &nbsp | &nbsp | &nbsp | &nbsp | &nbsp | &nbsp |
January 2024
| | | | | | | |
| --- | --- | --- | --- | --- | --- | --- |
| M | T | W | T | F | S | S |
| 1 | 2 | 3 | 4 | 5 | 6 | 7 |
| 8 | 9 | 10 | 11 | 12 | 13 | 14 |
| 15 | 16 | 17 | 18 | 19 | 20 | 21 |
| 22 | 23 | 24 | 25 | 26 | 27 | 28 |
| 29 | 30 | 31 | &nbsp | &nbsp | &nbsp | &nbsp |
| &nbsp | &nbsp | &nbsp | &nbsp | &nbsp | &nbsp | &nbsp |
February 2024
| | | | | | | |
| --- | --- | --- | --- | --- | --- | --- |
| M | T | W | T | F | S | S |
| &nbsp | &nbsp | &nbsp | 1 | 2 | 3 | 4 |
| 5 | 6 | 7 | 8 | 9 | 10 | 11 |
| 12 | 13 | 14 | 15 | 16 | 17 | 18 |
| 19 | 20 | 21 | 22 | 23 | 24 | 25 |
| 26 | 27 | 28 | 29 | &nbsp | &nbsp | &nbsp |
| &nbsp | &nbsp | &nbsp | &nbsp | &nbsp | &nbsp | &nbsp |
March 2024
| | | | | | | |
| --- | --- | --- | --- | --- | --- | --- |
| M | T | W | T | F | S | S |
| &nbsp | &nbsp | &nbsp | &nbsp | 1 | 2 | 3 |
| 4 | 5 | 6 | 7 | 8 | 9 | 10 |
| 11 | 12 | 13 | 14 | 15 | 16 | 17 |
| 18 | 19 | 20 | 21 | 22 | 23 | 24 |
| 25 | 26 | 27 | 28 | 29 | 30 | 31 |
| &nbsp | &nbsp | &nbsp | &nbsp | &nbsp | &nbsp | &nbsp |