The North American heat treat market continues to grow, and along with that growth we are experiencing an increased demand for new SECO/WARWICK technologies. SECO/WARWICK has provided thousands of heat treat solutions worldwide, and its systems and spirit of innovation are well-known globally, especially in the American market.
A SHIFT TO NEW THINKING
As traditional technologies age, they no longer meet the current specifications for quality, reliability and productivity in the shifting manufacturing landscape. Lean manufacturing techniques, digital reporting and tight technical specifications have led to new thinking and a change of approach to industrial production design. Today's customers need a solution that will meet very high requirements of demanding industries, and the ability to respond quickly to changing trends.
More and more companies are searching for business partners who deliver solutions that are not only financially solid, but also guarantee the quality that meets the current automotive, aerospace and tooling standards. The rise in the need for better technologies translates into higher demand for SECO/WARWICK's proven and innovative solutions.
THE AUTOMOTIVE INDUSTRY DEMANDS LIGHTWEIGHT MATERIALS, MORE FUEL-EFFICIENCY AND  ENVIRONMENTALLY FRIENDLY SOLUTIONS
With a keen focus on environmental compatibility and safety, automobile companies have started producing vehicles that are more eco-friendly and more technologically advanced than ever before. Technology development, in turn, increased demand for installing a higher number of heat exchangers, which means they must be lighter but also more efficient and more reliable.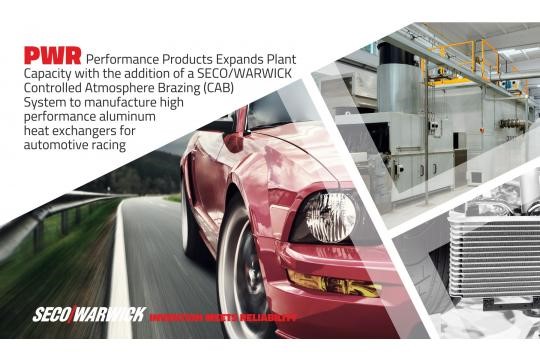 Recently, the Australian company, PWR Performance Products, a company that manufactures the finest racing components for the top professional teams in motorsports, needed to expand their plant capacity in the United States. PWR Performance Products has purchased a SECO/WARWICK Controlled Atmosphere Brazing (CAB) system to manufacture high performance aluminum heat exchangers for automotive racing. Kees Weel, CEO and Managing Director at PWR Performance Products commented that the addition of this equipment is an important step in their global strategy to expand their reach into the North American market with the addition of their new C&R Racing facility.
"We purchased our first SECO/WARWICK Brazing line 15 years ago for our facility in Australia as part of our overall manufacturing strategy to keep all operations in house for optimum quality control over all of our products.  The SECO/WARWICK brazing technology has operated with the reliable performance that we demand to produce high quality product" said Weel.
GLOBAL ECONOMIC GROWTH WILL INCREASE THE DEMAND FOR AIR TRAVEL
The largest manufacturers of commercial aircraft estimate that over the next decade, passenger traffic will double. Satisfying this demand to increase aircraft production has resulted in increasing the demand for the production of component parts for the industry.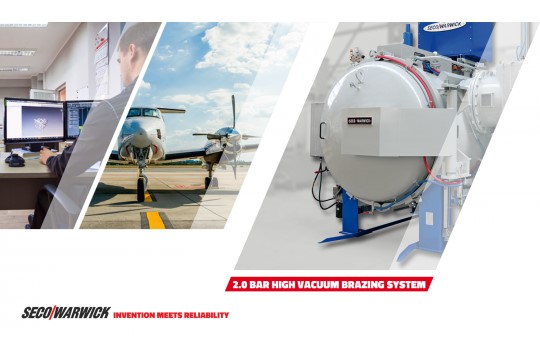 Recently, Héroux-Devtek Inc., an international company specializing in the design, development, manufacture, integration, testing, repair and overhaul of landing gear and actuation systems and components for the Aerospace market, has purchased a 2.0 Bar High Vacuum Brazing System from SECO/WARWICK for their Scarborough, ON Canada facility. The system offers efficiency, providing total value over the lifetime of the equipment.
SECO/WARWICK is constantly developing new heat treatment solution meeting the highest standards for the most demanding industries, including aerospace. For example, the company's engineering team has recently come up with a unique, technological solution on a global scale that could revolutionize the heat treatment process and exceed the aerospace sector's performance expectations.
CHANGING NEEDS AND MARKET REQUIREMENTS IN THE PRODUCTION OF PELLET DIES
Nowadays, pellet production equipment, complete lines and machinery systems for the production of biofuels is expected to be more efficient, faster but still reliable. The environment in which the equipment to produce pellet dies operates is harsh, so precision heat treating is a must.
Dorssers, Inc. manufactures pellet mill dies, roller shells and roll replacement parts for all makes and models of pellet mills for the feed, waste and pulp industries has purchased two SECO/WARWICK's pit style air temper furnaces for their manufacturing facility in Blenheim, Ontario, Canada.
ʺWe have worked with SECO/WARWICK for years and we know they understand our need for rugged furnaces, along with our need for uniformity and precision controls for our expensive dies," remarked , Dorssers President,  Peter Timmermans, ʺWe have owned and operated SECO/WARWICK vacuum furnace equipment for many years, and find the control systems to be one of the best on the market."
VACUUM TECHNOLOGIES IN NORTH AMERICAN MARKET
Because of the higher interest in SECO/WARWICK vacuum technologies in the American market, the company has recently established a new subsidiary, SECO/Vacuum Technologies (SVT), designed to provide quality standard and custom vacuum furnaces and related professional services.