Global bearing manufacturer, has decided to furnish one of its Chinese plants with a vacuum furnace by SECO/WARWICK with gas quenching, carburizing (LPC) and carbonitriding (LPCN)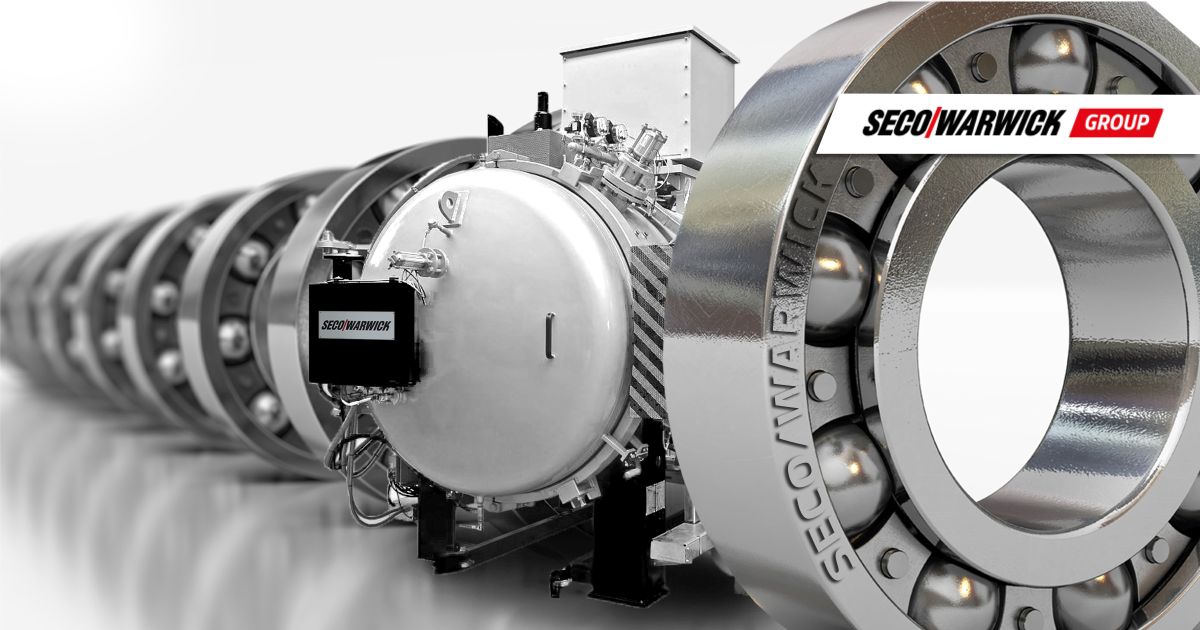 The Vacuum furnace with LPC — there is only one perfect solution
For their new production plant located in China, the client has selected a flagship SECO/WARWICK product — The Vector® vacuum furnace with LPC and 15 bar nitrogen quenching. The device has a standard chamber dimension of: 600 x 600 x 900 mm (width x height x length), enables a maximum charge of 800 kg, with a maximum operating temperature of 1350°C. The new Vector furnace will be used for manufacturing precision parts of bearings.
The Vector is a single-chamber vacuum furnace using a gas quench that can be used for a wide variety of heat treating processes and applications.  It provides important capabilities for producing high uniformity in heat-treated parts, high consistency in workloads, and high speeds in batch processing with low consumption of power and process gases.
Vector high-pressure gas quench furnaces are the ideal solution for heat treating. Vector is a vacuum furnace with a round graphite hot zone. These furnaces can be used for most standard hardening, tempering, annealing, solution heat treating, brazing and sintering applications.  Additionally, they can be used with SECO/WARWICK's optional patented vacuum-carburizing technologies (FineCarb®), prenitriding (PreNit®) and the SimVac® process simulation package that is included at no extra charge.  With hundreds of systems installed worldwide, SECO/WARWICK's high-pressure quench furnaces have a proven record of high-performance technology.
Think globally, act locally
New client is one of the largest global manufacturers of ball bearings.
"We are proud of adding this partner to the list of our customers. Together, we share not only similar activity and reach but also the vision of development and cooperation. I hope that this contract will be the beginning of a broader partnership. I am fully convinced that we can offer a lot to each other. We have been delivering high-quality equipment to all continents. SECO/WARWICK furnaces have been operated in the most remote parts of the world and we are able to guarantee professional maintenance for them. And, apart from the high quality of our devices, this is our huge competitive advantage" — commented Liu Yedong, Managing Director, SECO/WARWICK China.
SECO/WARWICK customers include companies listed on the major global stock exchanges. Among the customers, there are companies ranked in the Global Fortune 500 Forbes and Global Top 100 Companies PwC. But this does not mean that SECO/WARWICK works only for the largest corporations.
"We extend the same respect and engagement towards every customer. We deliver our solutions not only to the largest global companies, but also to small, local entrepreneurs such as commercial hardening plants. The size of a company does not matter to us, only their needs as a customer. Every contract is a challenge for us, which challenges us to adapt-FIN our equipment to the needs of our partner. We employ a team of highly-specialized R&D engineers who are virtually always able to design a device for particular needs" — summarized Maciej Korecki, VP, Vacuum Business Segment at SECO/WARWICK.
Tags:
LPC
|
LPCN
|
Quenching
|
vacuum furnace
|
VECTOR furnace