Aerospace and defense sectors lead the surge in new equipment orders for SECO/VACUUM (SVT), a SECO/WARWICK Group Company, with the tool and die market in a strong supporting role.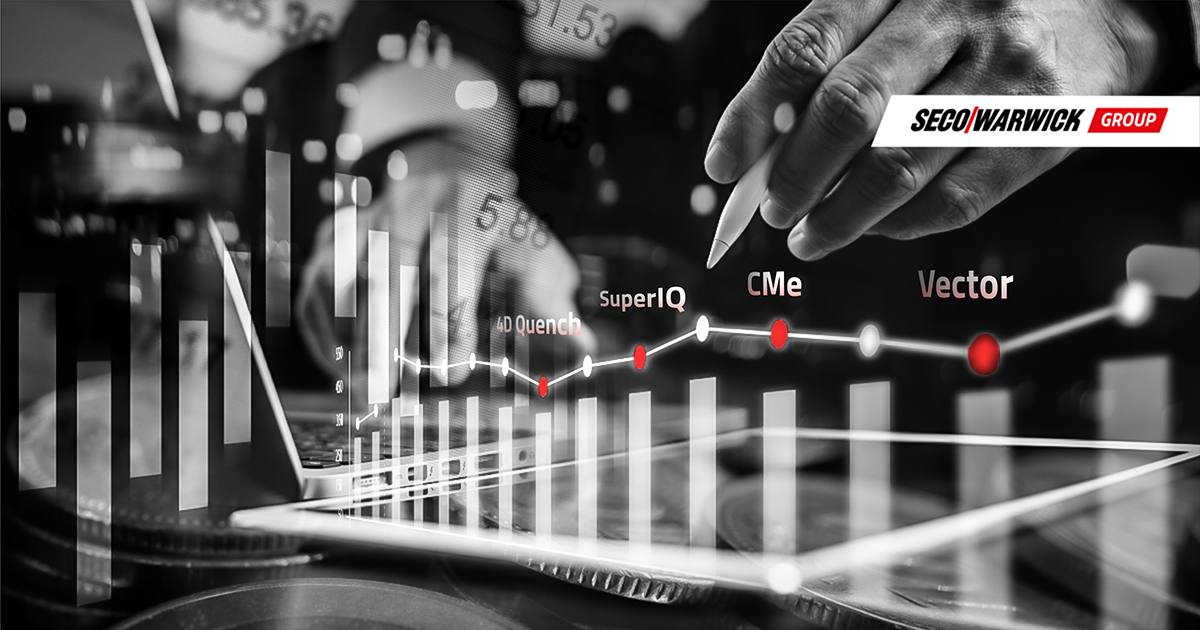 In stark contrast to a generally cautious economy upset by a global pandemic, farsighted OEMs have their horizons set well into the future as they develop plans for groundbreaking transportation technologies. One example is the purchase by a major aerospace contractor of SECO/VACUUM's single-piece flow continuous vacuum furnace, UCM® 4D Quench®, to become an integral part of a demonstration plant dedicated to completely automated gear manufacturing. The pilot plant will prove that the company will meet the high quality, high volume demands of their national and international defense customers in the years to come.
UniCase Master® 4D Quench® – the new standard for automation
SECO/WARWICK's groundbreaking UCM® 4D Quench® is a revolutionary, vacuum heat treatment system that provides continuous single-piece workflow for case hardening of gears and rings by low-pressure carburizing and high-pressure gas quenching in 4 dimensions including rotation. Contrary to the traditional, batch mode of heat treatment, every single part goes through the system the same way in terms of position, timing and process parameters. With a part exiting the system at a rate as short as 30 seconds each, customers can experience throughput as high as 1 million perfectly uniform parts per year.
Such technologies are also part of the fabric of today's industry-leading discussions: A presentation by SVT's Tom Hart and noted heat treat authority, Dan Herring, during SECO/WARWICK's E-Seminar in June, addressed the future of continuous vacuum furnace technologies as enabling these disruptive industry applications. A transcript of this discussion appears in the January 2021 issue of Industrial Heating magazine.
Vector® – top vacuum technology in America
In April, SECO/VACUUM sold a  single chamber vacuum furnace for an aerospace application involving the heat treatment of exotic electrical steels. While SECO/WARWICK Group has been supplying Vector furnaces to this international aerospace manufacturer in Europe and Asia for many years, this was the first furnace intended for a plant located in the US. Vector is used in multiple applications within the aerospace sector, including many of the most critical processes, such as heat treating turbine blades and landing gear. Delivered AMS2750 specification ready, Vector is also in wide use in the aerospace aftermarket to maintain fleets of aircraft.
Defense industry benefits from SECO/VACUUM customization
Defense made headlines as well in 2020 with other Vector orders, the company's most popular product, a highly versatile vacuum furnace that can perform a wide variety of heat treatment processes. In fact, 2020 started with orders for 4 Vector vacuum furnaces in the first two months of the year. Defense contractors appreciate Vector's flexibility, as in the case of a custom furnace designed to accomplish any heat treatment process equally well as any of the company's other specialty furnaces in the plant, providing added capacity while also serving as redundant back-up in the event another critical furnace is unavailable.
In addition to aerospace and defense applications, Vector was a valued asset at aluminium extrusion dies manufacturing plants, including Youngstown Tool & Die, who purchased two Vectors in 2020, one from SVT's VIP quick-ship program and one for a later delivery.
Noted SVT's Managing Director, Piotr Zawistowski, "I believe SECO/VACUUM has been awarded much of this business because we proved time and again that we can pivot quickly to meet customized solutions on deadline while also delivering the most reliable technologies on the market. Of course, our professional support team is another reason. A growing staff of sales engineers and aftermarket specialists means our customers are never stranded for support."
"All in all, 2020 was a very satisfying year for SECO/VACUUM in an otherwise unpredictable global economy."
Tags:
4D Quech
|
CMe
|
heat treatment
|
SVT
|
Vector