The global supplier of vacuum metallurgical furnaces, Retech part of the SECO/WARWICK Group, is completing an order with the Serbian foundry, Livnica Preciznih Odlivaka. At the beginning of the year, the final performance tests of the new equipment were carried out. Precision casting using the lost-wax process, will significantly improve and accelerate the foundry's production capabilities.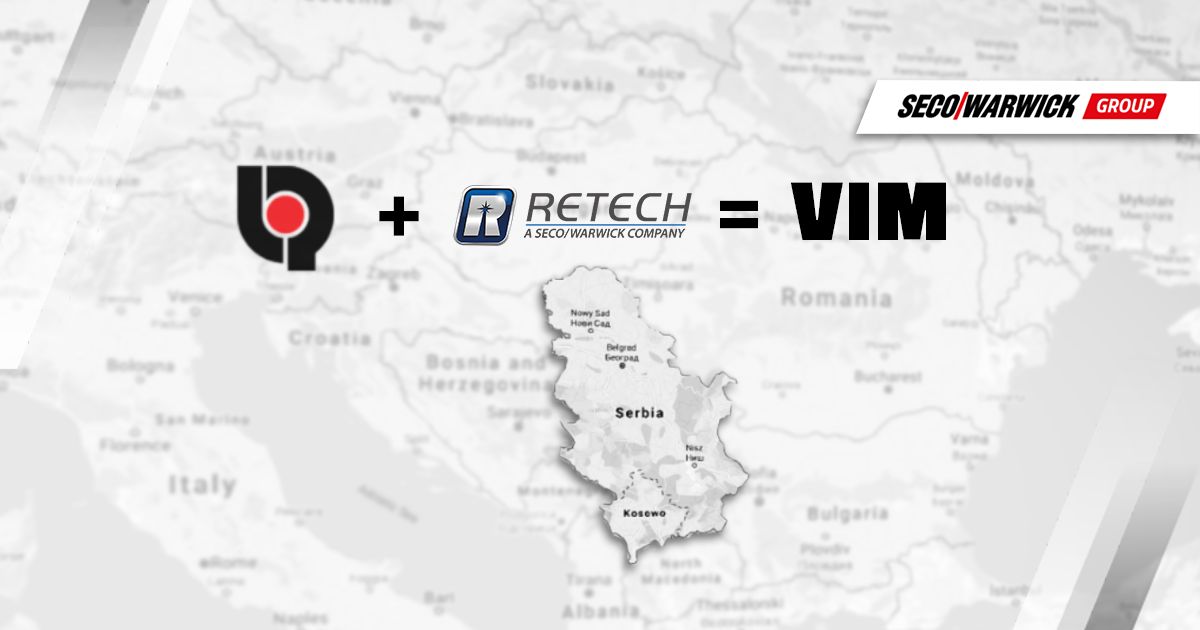 Retech, part of the SECO/WARWICK Group, is a leading supplier of advanced vacuum induction melting (VIM), plasma arc melting (PAM), vacuum arc re-melting (VAR), and electron beam melting furnaces (EB). The equipment ordered by the foundry is a VIM 50 kg EQ induction furnace. It will be used for high-speed precision investment casting.  A similar furnace was also sold to one of Livnica Preciznih Odlivaka's sister companies that is currently in the start-up phase.
The high-speed Retech furnace increases capacity
A great advantage of this furnace is the very short time between loading the mold and the start of casting. The "Load to Cast" time is only 90 seconds!
"The VIM induction furnace is one of our flagship products. Its popularity among customers results from its advanced technology and excellent production parameters. You could say it's the Rolls-Royce of vacuum metallurgy. The top quality, historical performance record, and operating ease make Retech's VIM furnaces a very popular choice with the investment casting sector," explains Earl Good, Managing Director at Retech, a SECO/WARWICK Group company. "We are pleased to see another VIM go to a company with a focus on the aviation industry," concludes Good.
An ideal furnace for the aviation industry
The parts manufactured at Livnica Preciznih Odlivaka (LPO) are installed in most engines currently in use in commercial aviation.
"Our entire production is for export. Because of the nature of the product, turbojet engine parts, our customers are the world's largest engine and engine component manufacturers including German MTU Aero Engines, Pratt & Whitney Canada and Siemens US"  – said Djordje Miricki, Production Manager at LPO. "That's why it's so important for us to have equipment of the highest quality. We have chosen Retech, a SECO/WARWICK Group Company's VIM furnace because it will allow us to significantly speed up our casting production. And that, right now, is the key to our further development" – concludes D. Miricki.
The popularity of VIM furnaces and the importance of vacuum metallurgy is a result of the growing and ever-changing production needs of aviation. State-of-the-art jet engines use components that are cast using the technology in Retech furnaces.
Retech manufactures equipment that is renowned for its high performance with low operating and maintenance costs. The user-friendly control system ensures precise process management of casting, temperature control and comprehensive data collection. Retech furnaces are equipped with unique and intuitive control systems that ensure repeatability, so important in the aviation industry, and unrivaled capacity.
Tags:
induction furnace
|
Retech
|
SECO/WARWICK
|
vacuum metallurgy
|
VIM