For the past decade, SECO/WARWICK together with the HART-TECH hardening plant has been working together to engage in the evolving science of modern metal heat treatment solutions.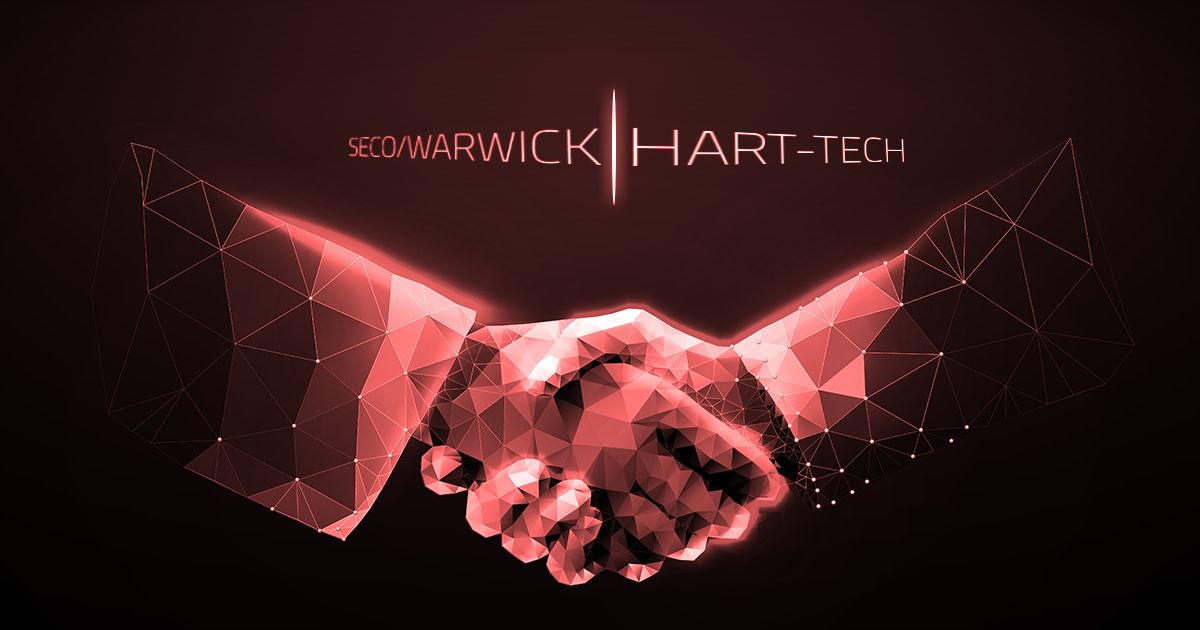 SECO/WARWICK — one of the 5 largest global manufacturers of metal heat treatment equipment and technologies.
HART-TECH — a hardening plant representing the highest quality standards, known to their clients as the company willing to take on the seemingly impossible projects. All its shareholders are scholars — professors, doctors of science, process engineers.
A modern hardening plant — the beginning
From the beginning, the cooperation between SECO/WARWICK and the hardening plant involved science and business contacts. Together with professor Piotr Kula's team from the Faculty of Mechanical Engineering at the Łódź University of Technology, the company implemented projects and research, and collaborated on the technical capabilities of the equipment in terms of the latest research and innovations in the discipline. As this work progressed, the cooperation started to involve product development through equipment testing in practical business applications.
In 2009, the initiative of three researchers from the Institute of Materials Science and Engineering of the Łódź University of Technology — professor Piotr Kula, professor Antoni Rzepkowski and Robert Pietrasik, Sc.D. Eng. — brought to life the HART-TECH hardening plant, which currently holds 11 specialized devices for vacuum metal treatment, all of the equipment supplied by SECO/WARWICK.
HART-TECH specializes in hardening, carburizing, nitriding, sulfonitriding and steel tempering processes, solution heat treatment and ageing, annealing, vacuum brazing, and case hardening of machinery and tool components. This state-of-the-art hardening plant makes perfect use of the latest technologies and based on knowledge and expertise modifies, changes and improves the products. Therefore, SECO/WARWICK solutions benefit from this dialogue, and the result is that their equipment is built to meet the exact needs of the customer.
"Our experience and process facilities enable us to perform very demanding and difficult processes. We are renowned to be experts in the impossible since we have vast scientific knowledge and expertise as well as reliable technological back-up from SECO/WARWICK. This cooperation enables us to specialise in highly demanding and difficult jobs requiring the best quality," explained Robert Pietrasik, Sc.D., President of the Board of HART-TECH.
The Vision shared by SECO/WARWICK and HART-TECH
SECO/WARWICK and HART-TECH share the vision for seeking new implementations, better and more efficient technologies, high-quality processes and modifications that make the heat treatment process more efficient, allow optimisations, or even defining new technologies. SECO/WARWICK equipment is perfect not only for everyday and regular hardening operations, but also for trials, experiments and tests. The devices offer high precision, enable the control and monitoring of a given process, and their design provides for additional safety margins that make it impossible to exceed temperature, power and speed limits. The furnaces are also very versatile, enabling many processes with the use of one device. Commercial hardening plants especially value the versatility when serving many different customers from various industries and sectors.
"On the one hand, HART-TECH is a particular partner with whom we have very close cooperation in terms of the technologies and processes. On the other hand, this customer is something of an extreme. They quickly switch from what the device was intended for to what more can be done with it," said Sławomir Woźniak, SECO/WARWICK Group CEO.
 "Our partner, like ourselves, loves science, research and development. Their curiosity of the world motivates us to develop new innovations. We attentively listen to the feedback from our customers. This enables us to create tailor made solutions that always respond to the needs 100%. With HART-TECH, we share the passion and a huge, constant drive for excellence," added Maciej Korecki, VP, Vacuum Business Segment at SECO/WARWICK Group.
Commercial hardening plant machinery portfolio — development with SECO/WARWICK
HART-TECH, as a commercial hardening plant, uses two flagship SECO/WARWICK products, both multi-chamber furnaces — CaseMaster Evolution® (CMe®) — and single chamber furnaces —Vector®. Both solutions are the most popular devices for vacuum heat treatment used by commercial hardening plants worldwide. The vacuum carburizing process, in which SECO/WARWICK is an expert, is the common denominator for both solutions.
HART-TECH was established in 2010, when a retort pit furnace for nitriding and sulfonitriding was the first device purchased from SECO/WARWICK. The second solution chosen by HART-TECH was a CaseMaster Evolution® (CMe®) furnace. This range of vacuum furnaces is dedicated for case hardening by low pressure carburizing and oil or gas quenching. The equipment is an alternative for atmospheric sealed quench furnaces, continuous lines and multi-chamber systems. Commercial hardening plants value this solution for its versatility and for its applications in various industries, such as aviation, automotive, machinery or bearing industries. This makes CMe furnaces perfect for commercial hardening plants that need to satisfy the many different needs of customers.
A tempering furnace was another solution, increasing the capacities of HART-TECH. "At that time, this process was our missing link. SECO/WARWICK proposed an economical, yet efficient solution. Soon after this order, we designed a modular line with Łódź University of Technology and SECO/WARWICK. This was a huge step in the development of HART-TECH," added R. Pietrasik, Sc.D., Eng. A modular line made it possible not only to implement gas and oil quenching but also to perform many other innovative processes for HART-TECH customers.
Customers from the tooling industry joined the hardening plant at a later stage of development. When it comes to production, hardening deformations are a serious problem for these customers. Therefore, HART-TECH was in need for a device enabling gas quenching to minimise the problem. The company selected a single-chamber Vector® furnace for high-pressure gas quenching (10 bar) with nitrogen cooling. This is the flagship and most versatile SECO/WARWICK product. Vectors are operated by hundreds of customers in 70 countries. Vector furnaces can be used for the majority of standard hardening, tempering, annealing, solution heat treating, brazing and sintering processes. They can be optionally equipped with SECO/WARWICK's proprietary technologies: low pressure carburizing (FineCarb®) and prenitriding (PreNit®).
The dynamic expansion of HART-TECH motivated them to place an order for another Vector® furnace for high-pressure gas quenching (15 bar).
The last device ordered, perfectly summarizing the 10-year cooperation between HART-TECH and SECO/WARWICK, is another CaseMaster Evolution® (CMe) unit — a two-chamber, third-generation furnace for batch processing with oil cooling. It offers a significant advantage in shortening the production process and improving the quality targets.
Precise solutions guarantee benefits
Both solutions — CME® and Vector® — bring the best operating performance and enable the heat treatment of many different materials. This is the key factor when selecting furnaces to be used in commercial hardening plants. Combined with low process costs, shorter cycles, higher output and precise control over the process, they make competitive carburizing a reality, made by SECO/WARWICK. Satisfaction with the results, along with the expertise and experience of SECO/WARWICK has resulted in the long-term cooperation between the companies, and now, translated into the purchase of another device. This time it is a CaseMaster Evolution with oil hardening.
The CMe — a highly-efficient furnace for vacuum carburizing — ensures exceptionally high carbon transfer efficiency thanks to the vacuum process. It provides perfect carbon penetration when carburizing even densely packed loads and parts of complex shapes or having plugged holes. No intercrystalline oxidation and perfect uniformity of carburized layer enable the production of high-quality parts.
"Certainly, the expansion of our hardening plant has not been a conventional one. We need to remember that the developing market needs were a significant factor affecting the purchase of new devices by HART-TECH. Thanks to the cooperation with SECO/WARWICK, in the past 10 years we have managed to strongly expand the company. We started with one customer and furnaces rented from Łódź University of Technology on an hourly basis. Now, all our vacuum furnaces come from SECO/WARWICK — a global manufacturer of metal heat treatment equipment. More than 1300 customers and a technology partner are probably the best recommendation for us and for this partnership," summarised Robert Pietrasik, Sc.D., Eng. President of the Board of HART-TECH.
Cooperation between the hardening plant and the industrial furnace supplier
Both companies push the limits.  According to Sylwester Pawęta, Sc.D., Eng, Operations Director and shareholder of HART-TECH "We are not interested in the intended purpose of the device but in what it can really do, what are its technological limits." According to M. Korecki "Hart-TECH expects to use our furnaces beyond its intended purpose, this is an obligation for us. But the partnership enables us to create and modify the architecture of devices, lines, systems and technologies for new applications expected by the commercial use of metal heat treatment equipment. Therefore, our partner is an inestimable source of information about SECO/WARWICK equipment. Continuous feedback from trials of equipment operated under the maximum load, used in an intensive way, shows us what we need to reinforce and improve to maintain the highest treatment parameters for the entire lifetime of the device, and also how we can upgrade them to work even better. Sometimes, this is a real trial by fire, or a test bench," summarised M. Korecki.
Experts with experts
As the time passes, customers from various industries expect increasing reliability, performance and better results from heat treatment technology. Both commercial hardening plants, and ourselves as a design and manufacture company, face these expectations.  This is the reason why HART-TECH uses Vector® and CME® vacuum furnaces from the SECO/WARWICK Group. Carburizing and gas and oil cooling in single- and multi-chamber furnaces guarantee the highest quality of heat treatment. The quality is guaranteed not only by state-of-the-art technology but also by the competence of the partner — the scientists working at the Institute of Materials Science and Engineering at the Łódź University of Technology. HART-TECH itself is a modern hardening plant using advanced heat treatment and heat and chemical treatment technologies, operating equipment that enables optimum performance of processes according to the latest vacuum technologies. This is the direct result of more than ten years of cooperation between the two companies.
Tags:
CMe
|
hardening plant
|
HART-TECH
|
partners
|
partnerzy
|
SECO/WARWICK
|
Vector