A Chinese manufacturer of aerospace components is a customer that has placed their trust in SECO/WARWICK for the fifth time, ordering advanced technology for metal heat treatment.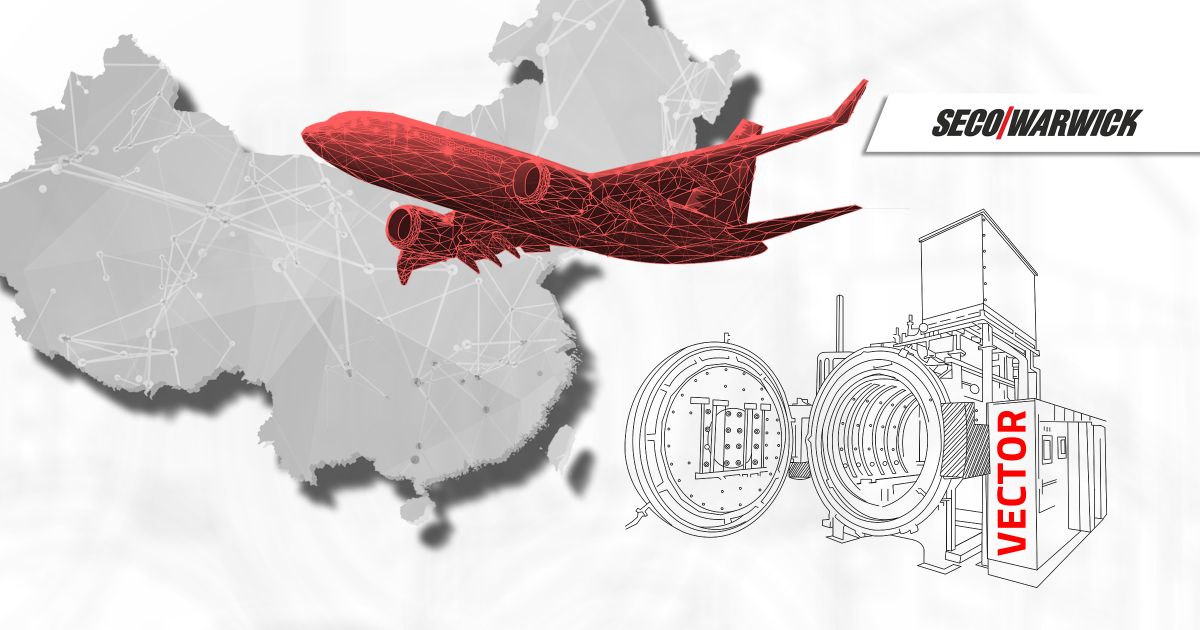 This recent order is for a Vector vacuum furnace featuring a molybdenum chamber where work pieces can be heated up to 1450°C, with a maximum working temperature of 1600°C. This will be the second SECO/WARWICK device with such a unique design on the Chinese market.
Vector – the furnace of extraordinary capabilities
Vector® is the most versatile SECO/WARWICK vacuum furnace that is particularly popular in the aerospace industry. This is because its single-chamber horizontal configuration provides multiple capabilities thanks to the many years of efforts by SECO/WARWICK engineers and designers. Currently, Vectors are operated in over 70 countries, every day heat-treating millions of pieces that comply with the highest standards (including aerospace and AMS2750F standards).
A characteristic feature of the furnace on order is the molybdenum chamber that works under the 10 bar abs pressure. The heating chamber has standard dimensions of 610x610x910 mm, and the maximum charge weight is 600 kg. The device is equipped with gas cooling and can operate under a unique temperature reaching up to 1600 °C, which is not available in other furnaces of this type.
"This is our fifth delivery for this Chinese customer. I am deeply convinced that similarly to the four previous devices, this Vector will also meet expectations. The precision and perfect uniformity of the heat-treated pieces combined with the low power and gas consumption makes our product the most popular solution on the market. Its advantage consists of the fact that it meets many requirements, being not only a versatile furnace in terms of technical capabilities, but also having a perfect design and meeting the strictest standards even in the most demanding industries, particularly in the aerospace industry" – said Maciej Korecki, Vice-President, Vacuum Furnace Segment, SECO/WARWICK Group.
SECO/WARWICK – a partner for the Chinese market
China is a very important export market for SECO/WARWICK. Every year, more and more metal heat treatment equipment is delivered there. The SECO/WARWICK Group delivers furnaces to the largest Chinese industrial companies ranked in the Global Fortune 500. The new contract for the delivery of a Vector furnace shows the importance of partnership, quality and a proven track record with multiple recommendations on the Chinese market.
"We have a long-standing cooperation with this customer. This is yet another solution delivered to this company. Each one was developed in cooperation with the customer to meet its special needs and comply with particular requirements. Engineers of our business partner actively support our designers and engineers by precisely defining their needs. This makes this cooperation very smooth, based on a great partnership, which is valued by both parties" – summarized Sławomir Woźniak CEO, SECO/WARWICK Group.
The fifth order proves that SECO/WARWICK equipment meets the highest standards of the aerospace industry.
Tags:
Aerospace
|
SECO/WARWICK
|
vacuum furnace