One year, at least double the performance, four dimensions and three faces of vacuum technology – this is how SECO/WARWICK Group may summarize the previous year.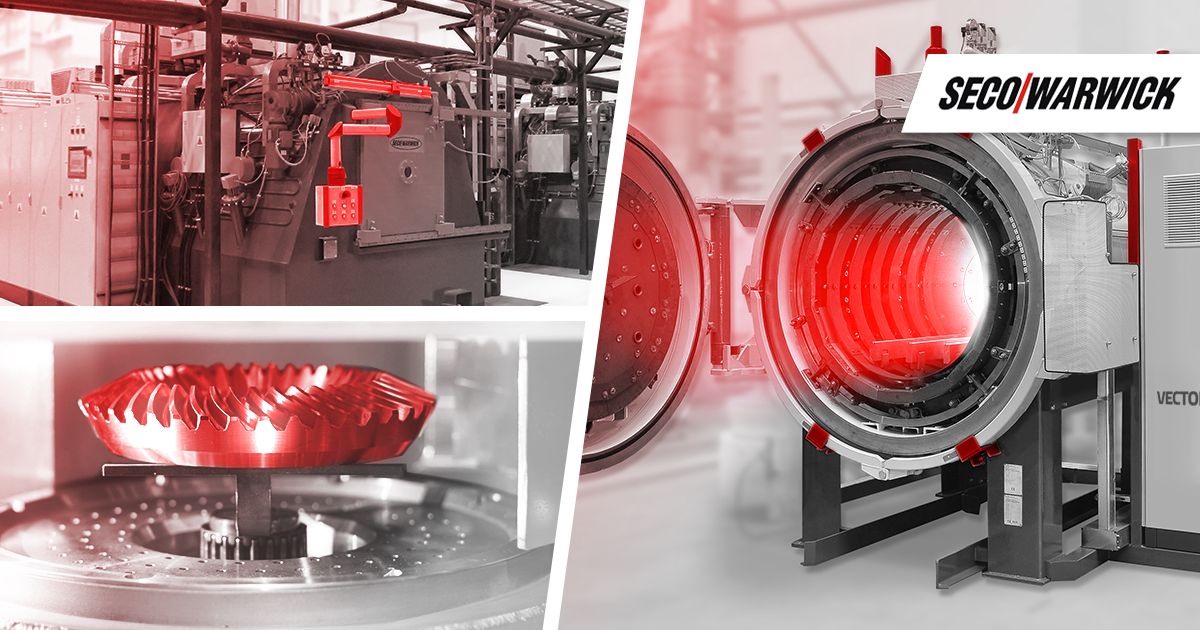 Three chambers double the performance
CaseMaster Evolution – T (CMe-T) – a three-chamber vacuum furnace – delivers economical surface hardening using low-pressure carburizing (LPC) technology and high-pressure nitrogen quenching. The CMe-T furnace can replace existing lines and generators used for mass heat-treatment under protective atmosphere and oil quenching, while ensuring higher precision and process repeatability. This solution stands out not simply because of its three-chamber design, but more significantly because of improved process quality, cost reduction from doubling yields, and increased production flexibility. Further, the CMe-T furnace's intrinsically safe operation and low environmental impact are becoming more and more important to industry leaders as a whole. These are among the key reasons that aviation and automotive manufacturers are becoming increasingly attracted to CMe-T as their heat treat solution of choice.
The flagship product and more than one dimension
Vector, SECO/WARWICK Group's flagship single-chamber high pressure gas quench vacuum furnace, is the second most popular solution in the company's portfolio. In the latest development, Vector 3D was designed for the heat treatment of a wide range of products made by additive manufacturing (3D printing) and started to appear prominently on the radar of the medical and aviation industries as well as global research and development centers.
Quench hardening evolves into the 4th dimension
Last year, this SECO/WARWICK department presented an innovative UCM® 4D Quench® furnace which responded to some very real needs in the automotive and aviation industries. This advanced vacuum system for single-piece quenching with distortion control adds a fourth dimension to heat treatment: a patented cooling nozzle arrangement ensures a homogeneous and controlled flow of cooling gas. In order to achieve the best possible outcome in the process, the quenched piece is simultaneously rotated on a table – SECO/WARWICK defines such a motion as "4D quenching".
As a result, UCM® 4D Quench significantly improves the quality of produced parts, which in turn boosts financial results related to the production of mechanical gear components.
2019 – a year of innovation
"If we wished to summarize 2019 in the vacuum segment, we should simply say that it was – state-of-the-art. The presented solutions have no rivals on the market. In these areas, it is SECO/WARWICK that is driving the technology race. The aforementioned UCM® 4D Quench® constitutes a modern alternative to press hardening while eliminating all the common flaws in the process. Our peerless CMe T hardens surfaces economically by means of low-pressure carburizing and high pressure gas quenching, while the Vector 3D is a response to the need for 3D printing technology that is conquering the world", says Maciej Korecki, VP, Vacuum Furnace Segment at SECO/WARWICK.
SECO/WARWICK's experience in creating heat treatment solutions dates back to the 1970s, when vacuum technologies for heat treatment began to appear in the aviation, defense, metalworking, medical, nuclear, and tooling industries. Over the last few years, we have grown fast and delivered over 700 complete installations in over 40 countries, with many of our technologies putting traditional ones in the shade.
These three SECO/WARWICK innovations are therefore the perfect last year summary. The world of metal heat treatment has seen a product being launched, three-chamber vacuum furnaces have significantly increased production efficiency, and the company's flagship product has been taken up in the additive manufacturing of metal parts following 3D printing.
Tags:
CMe-T
|
UCM 4D Quench
|
vacuum furnace
|
vacuum heat treatment
|
Vector
|
Vector3D