Harsha Engineers Limited, a leading bearing cage manufacturer in India, who has manufacturing facility in India, China and Romania and who has Customers across 5 Continents, ordered yet another ferritic nitrocarburizing furnace with ZeroFlow technology from SECO/WARWICK.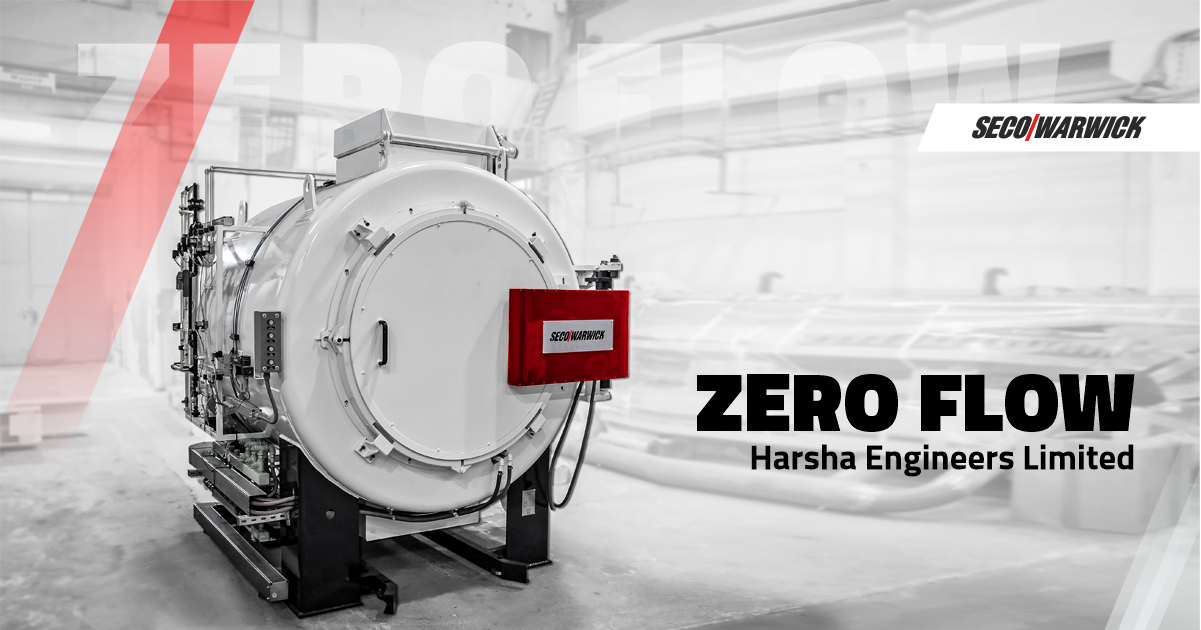 This modern, energy-saving and ecological gas nitriding process – ZeroFlow – is most frequently used in the automotive industry.
Why automotive love ZeroFlow?
ZeroFlow® technology allows for maintaining full versatility of conventional gas nitriding while optimizing process gas consumption, i.e. a significant reduction thereof concerning competitive technologies. Depending on the type of processed details, steel grade and final requirements, this method allows for saving gas consumption, including ammonia, by up to several dozen percents as compared to traditional methods.
Modern gas nitriding with the use of ZeroFlow technology, using SECO/WARWICK products, perfectly fits into the current trends and demands of modern industry, like automotive is.
On one hand, we deal with an innovative method of process control which maximizes the use of the factors that influence processing costs, on the other hand, there is modern equipment that improves the economy through the further reduction of energy consumption and cycle times.
Savings, flexibility, precision, and simplicity of the ZeroFlow® process makes it the ideal replacement for traditional nitriding systems.
Ferritic nitrocarburizing furnace for heat-treating bearing
The furnace is equipped with a vacuum system, gas control system, turbo cooling, atmosphere cooling system and post oxidation system to get a material very uniform grey color and other tribological properties to meet the specifications of leading bearing manufacturers.
The nitrogen potential control is based on hydrogen analyzer and allows measurement and regulation of nitrogen atmosphere potential by measuring the hydrogen content in the furnace atmosphere. Also, all the process parameters like ammonia flow, carbon dioxide flow, a ratio of carbon dioxide to ammonia, furnace pressure are automatically regulated. The furnace control system employs a cascade-based temperature control system to regulate the furnace temperature very closely to meet the requirements of the customer.
Your problem = SECO/WARWICK's solution
"Our relationships with Harsha are both personal and professional, information is shared on a top management level as much as on operational level. Thanks to long term cooperation the communication is close and transparent. Because of all this, we have been supporting our client not only in process optimizations, crew training but also developed parts at our R&D center, give regular technological and metallurgical support in improving their product quality", says Manoranjan Patra, Managing Director of SECO/WARWICK India.
Harsha Engineers is an extremely demanding and technically aware customer who was very actively involved in developing the concept and even designing the device, so these specific furnaces are tailored in a sophisticated way to their needs and expectations. Harsha team are advanced technically and know very well what they want. The fact that the client ordered fourth furnace from SECO/WARWICK confirms our strong position in this particular industry", adds Manoranjan Patra.
SECO/WARWICK has been consistently supplying its best technologies securing for the client repeatable productivity, maximum performance and strong service support.
"ZeroFlow® is an excellent solution to a fast-growing Indian market where companies from different sectors strive to provide an increasingly better quality of processed parts. SECO/WARWICK grows into first choice company position in nitriding technology and a ferritic nitrocarburizing furnace for heat treating bearing at this market," concludes Sławomir Woźniak, CEO at SECO/WARWICK.
Strong cooperation of SECO/WARWICK and Harsha Engineers Limited carries a strong message to other market leaders in different industries about innovative heat treat processes, a new level of performance, economy, here specifically in ferritic nitrocarburizing and ZeroFlow nitriding technology.
Tags:
Atmospheric furnace
|
Harsh Engineers
|
nitriding
|
ZeroFlow