SECO/WARWICK equipment has been selected yet again by the international Aalberts Surface Technologies Group. The company already owns nine SECO/WARWICK solutions, and this contract is the third one associated with the expansion of the machinery base in Dzierżoniów.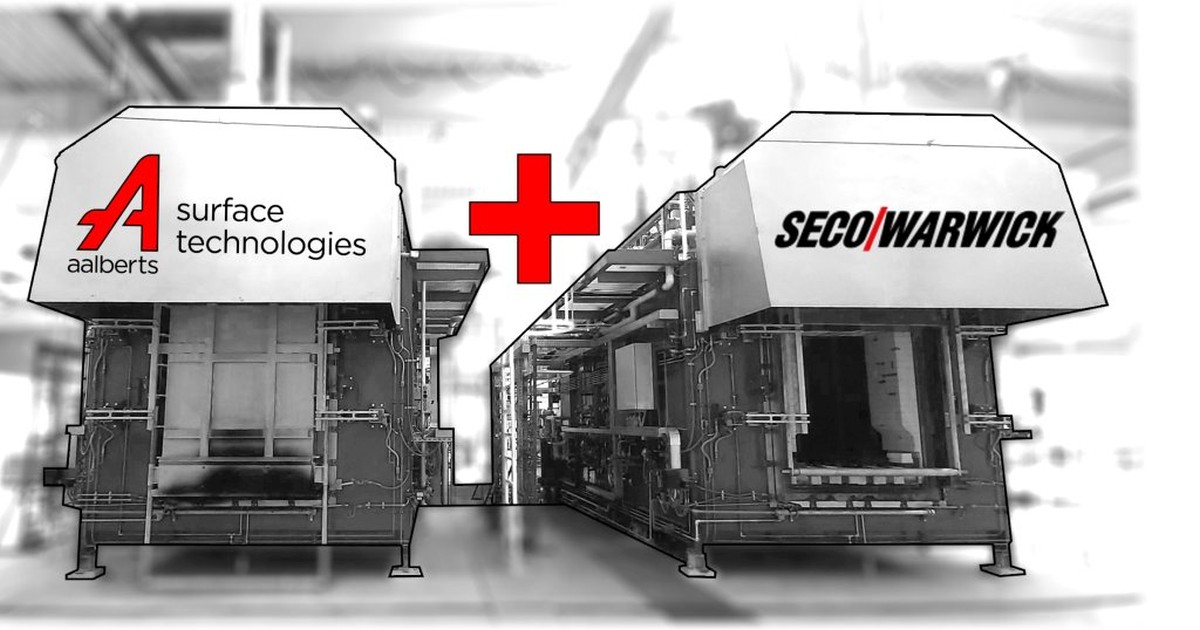 Aalberts Surface Technologies owns SECO/WARWICK equipment working with both vacuum and atmosphere technology. This time, the Dzierżoniów hardening plant will receive an innovative AFT process line that is based on two-chamber atmosphere furnaces.
SECO/WARWICK technologies support expanding commercial hardening plants
The delivery of new devices includes: a third main furnace, tempering furnace, and an endothermic atmosphere generator as well as loading and unloading devices along with the auxiliary infrastructure.
"This contract covers a main AFT type atmosphere furnace, intended for carburizing, hardening, nitrocarburizing and annealing processes," explained Piotr Skarbiński, Vice-President, Business Segment Atmosphere Furnaces, SECO/WARWICK Group. "The furnace is perfect for manufacturing processes for various transmission components, enabling the use of both conventional load arrangements with modular accessories (mesh, grids or "cross-bars") as well as hardening baskets" – P. Skarbiński added.
The hardening plant expansion step by step
Customers who operate specialized hardening plants demand versatile solutions enabling them to carry out many different metal treatment processes. When deciding on the expansion of a hardening plant, one does not only take into account the equipment capacity, but also its versatility, reliability and the necessary support. Commercial hardening plants do not allow for production outages, they should be ready 24/7 and their machinery should provide as many services as possible. SECO/WARWICK has expanded the machinery base in many commercial hardening plants.
"Our earlier contract dating back to 2018 covered the first delivery of heat treatment furnaces for the new hall at Aalberts Surface Technologies in Dzierżoniów. But overall, this is our ninth contract with the Group. The previous orders covered, for example, Vector vacuum furnaces or a three-chamber CaseMaster Evolution-T vacuum furnace. Last year, we delivered to the Netherlands a furnace operating under high vacuum which is not only the largest furnace with an all-metal heating chamber, but also the largest device of this kind to be operated in the Benelux. This customer has also purchased from us a universal BREW device for the tempering process. Apart from atmosphere furnaces, commercial hardening plants use two flagship SECO/WARWICK products, that is multi-chamber vacuum furnaces, the CaseMaster Evolution® (CMe®), and single chamber furnaces, the Vector®. The common denominator of both solutions is a flexible, versatile and environmentally-friendly vacuum heat treatment, which is our specialty," added Maciej Korecki, Vice-President, Vacuum Furnace Segment, SECO/WARWICK Group.
Cooperation between SECO/WARWICK and Aalberts
"We have been working with Aalberts Surface Technologies Group for many years. This is another time that we are involved in increasing the capacity of the Dzierżoniów hardening plant and in expanding its machinery base with reliable SECO/WARWICK equipment. This cooperation is unique in the fact that we have already delivered our equipment not only to many branches of this partner, but also because they use a very wide range of our technologies. The fact that Aalberts Surface Technologies returns to us is a huge compliment as it means that our partner is satisfied both with the solutions we provide, and with the after-sales service. Partnership is an important value for us. If we work with a customer for many years, we see their huge development and are able to help them, this is invaluable. This is of particular importance when it comes to developing a partnership over many years, as it is in this case, delivering diverse technological solutions for many entities of a single corporation," said Sławomir Woźniak, CEO, SECO/WARWICK.
Partnership that obliges
Aalberts Surface Technologies is a global company with more than 80 years of experience, operating in more than 70 countries. The Dzierżoniów plant was established in 2014 and is one of the most modern commercial hardening plants in the region. They are a supplier primarily for the automotive industry, but also for the wide machinery industry.
"We have decided to cooperate with SECO/WARWICK because they provide us with the tailor-made solutions which always respond to our needs 100%. We share the passion and huge, constant drive for excellence which is inscribed in the DNA of Aalberts Surface Technologies. Cooperation with such an experienced company also brings professional consulting that helps us to optimally expand the Dzierżoniów hardening plant. The new line will significantly increase our capacity and will allow us to expand our business to other Eastern European countries," said Bartłomiej Olejnik, Managing Director, Aalberts Surface Technologies Heat Sp. z o.o.
"We have been cooperating with the SECO/WARWICK Group for many years. They are our technology partner and with them, their solutions and support, together we can shape the heat treatment industry. What is important for this cooperation is the dialog, flexible approach, constant search for solutions for improvement, and the vast experience of our partner – combined, these allow us to implement our business and technological development with peace of mind," Bartłomiej Olejnik added.
Tags:
AAlberts Surface Technologies
|
annealing
|
atmosphere furnace
|
carbonitriding
|
SECO/WARWICK