The Internet world doesn't have any borders, so all shows are now virtual, and European and American events can be available for all to attend, where the business world comes to network and break other traditional rules. SECO/WARWICK Group will break rules by presented technologies that are also unusual because they can solve everyday heat treat problems.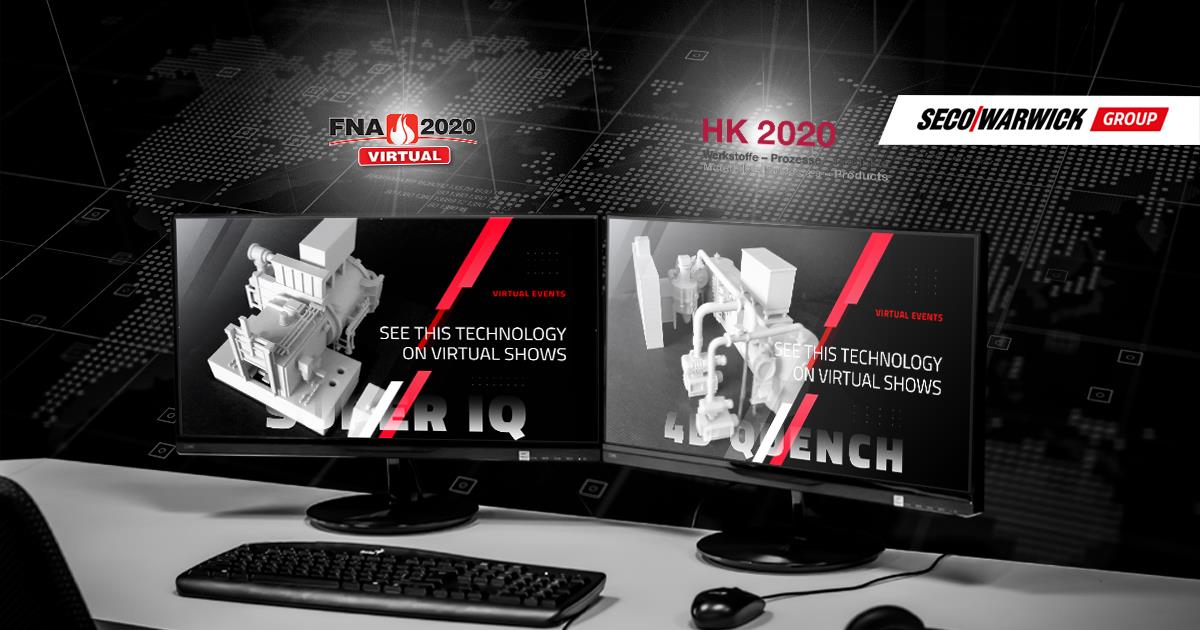 Super IQ® furnace
and
4D Quench®
– those two icebreakers, will be presented
this year, on
30 Sept to 02 Oct – FNA
show and
21-22 Oct – HK,
both virtual shows.
"Both furnaces are the symbol of change, of different views and a new era for the industry. They eliminate everyday heat treatment problems and become modern and attractive alternatives to traditional methods. At these shows, we would will present answers on today's needs, because the world benefits from smart technology and the qualities of ex3: eco-friendly, economical, and efficient. And all those aspects are covered by SECO/WARWICK's technologies," says Katarzyna Sawka, VP Marketing at SECO/WARWICK Group.
There are two top products we will present in detail.
Super IQ
A game-changer in gas carburizing, Super IQ has already been commercially deployed and operates at an American client – REX Heat Treat.
Super IQ does MORE and costs LESS. It runs clean, cool, and safe, with NO flames and NO endogas. It can achieve temps over 2000°F to allow you to do more, yet it's surprisingly affordable and costs less to operate and maintain. Plus, it uses standard quench oils and even integrates with your existing IQ loader. Super IQ is the new way to carburize!
4D Quench
The second key product we will further explore together is a vacuum system designed for single-piece flow nitrogen quenching with distortion control.
4D Quench was developed as a modern alternative to press quenching. It is a single-piece-flow hardening furnace that predicts and controls distortion so well that it can produce 1 million perfectly uniform parts per year and eliminate costly post-heat treat corrections such as straightening or milling.
There will be a special presentation by Don Marteeny, vice president of Engineering at SECO/VACUUM, on 4D Quench technology at the FNA Conference.
We pay attention and solve clients' problems
SECO/WARWICK offers a number of other vacuum heat treatment solutions plus an unlimited number of customizations, maintenance services, mobile tools and process knowledge to help clients design their most effective process procedures and production flows.
We will also feature our standard lineup of core heat treatment solutions, including Vector®, our flagship single chamber HPGQ vacuum furnace; CaseMaster Evolution®, a multi-chamber vacuum furnace with oil or gas quench capabilities designed to increase throughput; PIT LPC the modern alternative for atmosphere furnaces, a 21st century Low Pressure Carburizing (LPC) for large case depths; and our ZeroFlow® gas nitriding furnace which uses only ammonia as a process gas and employs vacuum purging to reduce operating costs.
Join us at HK and FNA this year, virtually, with much better availability. Our experts will be waiting for your questions and problems to solve.
See us online:
https://www.awt-online.org/en/heattreatmentcongress.html
https://www.furnacesnorthamerica.com/
Tags:
4D Quench
|
atmosphere furnace
|
Super IQ
|
Vacuum