The past five years have been quite a journey for SECO/VACUUM, a SECO/WARWICK Group company.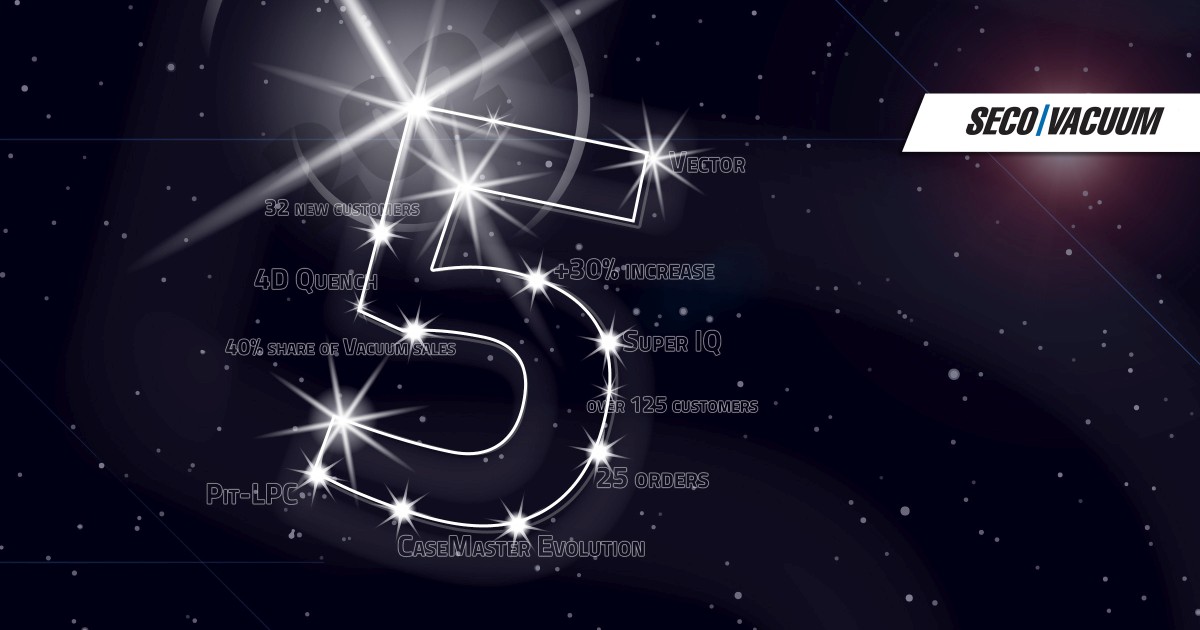 January 2022 marks a major milestone since SECO/WARWICK – the worldwide heat treatment supplier – launched its US division. In January 2017, SECO/VACUUM, the sister company of SECO/WARWICK was established in Meadville Pennsylvania.
Looking back, there are so many highlights it is hard to adequately cover them all in a single announcement. Through strong local leadership and a commitment to self-determination, along with expert technical support and expansive manufacturing capabilities from parent SECO/WARWICK Group, we have not just survived, we have absolutely thrived.
Said Peter Zawistowski, Managing Director at SECO/VACUUM, "SECO/WARWICK's portfolio is the deepest in the heat treat equipment business, with more new technologies than any other company in the world. This derives from the company's ongoing commitment to introducing problem-solving innovations that reduce our customers' costs, increase their productivity, and improve their finished product quality. Our US team here at SECO/VACUUM has leveraged these technologies to advance the state of the art in North America more effectively than we could have imagined five years ago, an accomplishment that is a source of enormous personal pride."
While the company has accomplished much, the future looks even brighter. Here's a quick look back and a forecast on what's to come.
Major New Product Launches
SECO/VACUUM has been on a relentless campaign to create a new paradigm, "The Future of Heat Treating", by deploying major new vacuum heat treating technologies in the North American market designed to bring legacy heat treatment into the 21st Century. The goals include better quality, higher efficiencies, lower costs, and greater throughput, while always embracing the innate environmentally responsible platform represented by vacuum processing, with no fossil fuels or their negative impacts.
Launched Oct 2019, 4D Quench is a continuous, single-piece flow vacuum heat treatment system for quenching and distortion control, a cost-effective solution that cools rapidly but without any of the issues associated with oil. The 4D Quench system utilizes a proprietary arrangement of cooling nozzles that surround the part and ensures a uniform flow of cooling gas from all sides; top, bottom, and side – "3D" cooling. To complete the process, a table spins the part (the 4th dimension), further enhancing quench uniformity. Users can expect to produce over 1,000,000 perfectly uniform parts per year.
Launched August 2020, Super IQ integral quench furnace provides significant upgrades over the limitations of current IQ furnaces. It operates uses a low-pressure processing chamber together with a positive pressure inert atmosphere oil quench tank, and eliminates flames and endogas. According to Johnathan Rex, president of Rex Heat Treating in Lansdale PA, "We chose to partner with SECO/WARWICK because of the company's innovative thinking and established position in the marketplace. We were looking for a competitive advantage, and we got it. Super IQ from SECO/WARWICK, and their other furnaces we bought, are all first class."
Launched April 2021, Pit-LPC was awarded a new technology patent for a low pressure carburizing pit vacuum furnace designed to reduce costs while increasing production. The key to achieving these goals is the application of the unique Pit-LPC® technology, a highly efficient alternative to gas carburizing. Capable of delivering 3 times the output as a legacy gas-fired furnace, Pit-LPC will revolutionize carburizing for large, heavy parts requiring thick case depths.
Award goes to…
USA-Central Eastern Europe Investment Summit & Awards in July 2021 awarded SECO/WARWICK Group the "Most Successful Expansion to North America" at the USA-CEE Investment Awards for its U.S. division, SECO/VACUUM. "To be among such esteemed brands is an honor for us. The award is most gratifying as the U.S. is a highly developed, saturated, and very mature market, and one that values courage and innovation," said Peter Zawistowski, Managing Director of SECO/VACUUM. Said Tom Barnhardt, Editorial Director CEE Business Media "We are pleased that SECO/WARWICK won the top prize. The Jury noted the 'opportunistic reverse-takeover' of the US parent, and won in the Popular Vote."
40% share of vacuum furnace sales
SECO/VACUUM wrote orders for 40% of SECO/WARWICK Group's total international vacuum furnace business in the most recent period ended December 31, 2021. Over the course of the past five years, our versatile flagship Vector® single chamber high-pressure gas quench (HPGQ) furnace led the pack at more than 50% of the business unit's sales, for deliveries to aerospace, defense, tool & die and commercial heat treatment customers, followed by a 26% share from Vacuum Temper furnaces sold to numerous manufacturers involved in machine tools. Coming in third place, ZeroFlow® single-chamber gas nitriding furnaces represented 12% of sales, many to support the thriving automotive business, followed by CaseMaster Evolution and Super IQ multi-chamber gas/oil quench furnaces, representing 10% of total sales; and finally, UniCase Master/4D Quench single-piece flow solutions and Vacuum Aluminum Brazing furnaces made up the balance of sales.
The creation of a vacuum-only technology group enabled a particular focus on the specialty, which facilitated the creation and development of singular engineering, marketing and sales directive to serve the industry better than a diversified manufacturer possibly could.
Customers & Markets served: 32 total new customers
SECO/WARWICK Group boasts customers in 70 countries, while its US division, SECO/VACUUM serves 32 new equipment customers in just its first five years in business. The majority of SECO/VACUUM's business has been sold to manufacturers with in-house heat treating, representing a cross-section of markets including aerospace, defense, automotive, tool and die, instrumentation and industrial, plus a number of commercial heat treaters. A great many customers are responsible for multiple solutions and repeat orders. For aftermarket support of installed equipment, SECO/VACUUM has served over 125 customers over its five-year existence.
One notable international machine tool manufacturer has ordered seven vacuum furnaces since SECO/VACUUM's inception, while a major tool and die manufacturer placed a single order for eleven furnaces to upgrade its heat-treating departments in North America three locations. We note with pride, "there is no greater compliment to a systems' supplier than the confidence expressed by repeat business."
"In 2021, SVT wrote as many as 25 orders, mainly in the aviation and tools industry. Among them, there are 19 returning customers and 6 are new users of our technology. This year will be closed by SECO/VACUUM with a sales increase of 30%. It was definitely the year of America, the year of SECO/VACUUM" – concludes Sławomir Woźniak, CEO at SECO/WARWICK Group.
We support your success
Recognizing that vacuum heat treatment was – and continues to be – the way of the future for so many positive reasons, the sales performance of the division has indeed proven the concept.
To reinforce the mission, SECO/VACUUM welcomed attendees to "The Future of Heat Treating" at the ASM Heat Treat Show in October 2021, showcasing all of the company's vacuum furnace technologies, encompassing more heat treating innovations than any other manufacturer in the world.
As we begin our next five-year run, we look forward to continuing to support your success and together create the future.
Tags:
4D Quech
|
CaseMaster Evolution
|
SECO/VACUUM
|
Super IQ
|
ZeroFlow