The customer's choice is a three chamber CaseMaster Evolution (CMe)® furnace which will be used for heat exchangers. The client has decided on SECO/WARWICK vacuum technology after a long period of trials with single and double chamber furnaces.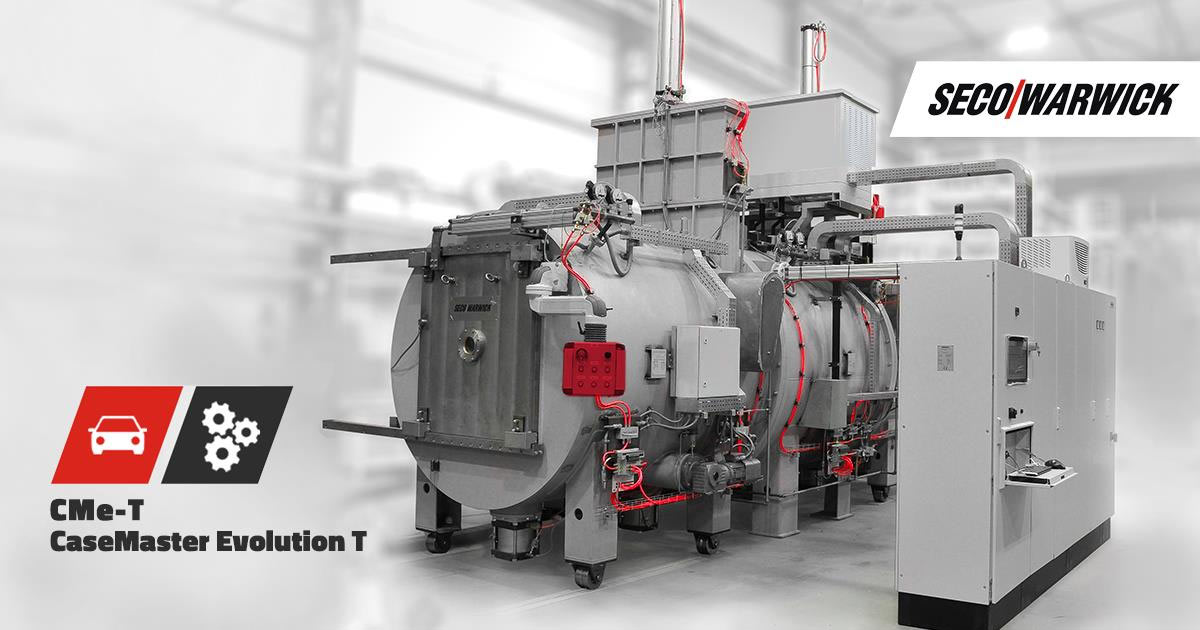 The CMe furnace with vacuum loading and cooling chambers is a semiautomatic brazing furnace that is quickly becoming popular especially in automotive, aerospace and defense industries due to its superb performance and high precision. Here, the client's focus was on increasing production volume of its air cooling/heat exchangers. It's the first vacuum technology overall used by this manufacturer.
The client was previously using single-chamber furnaces but SECO/WARWICK's three-chamber technology became so attractive that the client conducted a number of trials at various heat solution providers to finally decide on the SECOWARWICK furnace. The engineering team played a great role in the process with professional support to train the client's crew and acquaint them with the vacuum technology. As both parties stressed, there was a close cooperation on both sides and on all the levels starting with top management and finalizing on operating levels of the production team. Sharing information was transparent and the learning process was smooth.
Mass production, high precision
CaseMaster Evolution–T (CMe-T) – a three-chamber vacuum furnace – delivers economical surface hardening using low-pressure carburizing (LPC) technology and high-pressure nitrogen quenching. The CMe-T furnace can replace existing lines and generators used for mass heat-treatment under protective atmosphere and oil quenching, while ensuring higher precision and process repeatability. This solution stands out not simply because of its three-chamber design, but more significantly because of improved process quality, cost reduction from doubling yields, and increased production flexibility. Further, the CMe-T furnace's intrinsically safe operation and low environmental impact are becoming more and more important to industry leaders as a whole. These are among the key reasons that aviation and automotive manufacturers are becoming increasingly attracted to CMe-T as their heat treat solution of choice.
"The client has chosen SECO/WARWICK technology after long trials with other single and double chamber solutions from our competitors. Although initially the client focused simply on increasing the volume of production there was the whole spectrum of benefits not offered by the competitors. In a word, the advantage through technology prevailed" – said Maciej Korecki, VP Vacuum Business Segment at SECO/WARWICK.
 Our engineering team worked closely with the client since this was the first vacuum technology purchased by the manufacturer; furthermore, SECO/WARWICK is prepared to provide full customer assistance in implementing both technology and crew training at the site. We are very happy and proud to have successfully implemented another SECO/WARWICK solution in India,"- added Manoranjan Parta, Managing Director SECO/WARWICK India.
With hundreds of systems installed worldwide, SECO/WARWICK's high pressure quench furnaces have a proven record of high-performance technology. CMe technology is successfully used in India, China, North America and Europe.
Singe focus – multiple arguments thanks to CMe®
SECO/WARWICK strives to be the first-choice supplier of solutions for heat treatment and metallurgy everywhere in the world by means of innovation that solves problems and brings solutions where they are most needed.
The customer was looking for brazing technology for its heat exchangers to increase production volume and tested a number of solutions currently available on the market. Solving the basic client's problem was, however, not enough. The CMe furnace delivers a number of unexpected advantages, including: minimizing manual intervention, reducing total cycle times, increasing productivity, improving brazing quality, achieving excellent batch uniformity, reducing operational costs and saving the environment.
SECO/WARWICK technology is well suited not only to meet the high standards of such demanding industries as aerospace, special automotive and defense, but can also be applied as a solution to traditional brazing with more productivity, lower operation costs, and meeting zero pollution norms.
Technology advantage with SECO/WARWICK
CaseMaster Evolution, including CMe-T version, has been revolutionizing such industries as automotive, defense, hardware, aerospace and commercial heat treaters. Successful deployment of the first furnace with this technology will increase the client's production capacities and elevate their product quality, providing the client with significant competitive advantages on the Indian and global markets.
For SECO/WARWICK India it's another important step in establishing its position as the first-choice provider of heat processing technologies to the Indian market.
Tags:
CaseMaster Evolution
|
CMe
|
CMe-T
|
vacuum furnace