/Heat Treatment for Other Industries
Heat Treatment for Other Industries
Other applications
Other important industries that actively take advantage of the solutions offered by SECO/WARWICK include medicine (manufacturing of medical instruments, implants, biomedical engineering), the tool industry (dies, aluminum profiles), and 3D printing (prototypes, metal powders, additive manufacturing). Each year, the number of applications for SECO/WARWICK Group equipment grows because engineers work to ensure that it meets the needs of the changing market. Because of this fact, the list of industries with which the Group cooperates always stays open.
/

Vacuum furnaces for the other industries

PARTS: gears, teering elements,fuel installation, heat exchanger, tools & dies, machine parts, hydraulic parts, holder/clamps

TECHNOLOGY: annealing, brazing, sintering, forging, hardening HPGQ, hardening OilQ, tempering, vacuum carburizing, vacuum nitriding, diffusion bonding, brazing aluminum, FNC ferritic nitrocarburizing, nitriding
/

Vacuum melting furnaces for the aerospace industry

PARTS: castings

TECHNOLOGY: equiax casting, directional solidification, single crystal casting, plasma arc melting, vacuum arc remelting, electron beam melting

INDUSTIRIES: defense, R&D, addictive manufacturing, refactory metals industry, medical, steel and titanium industry.
/

CAB furnaces for other industries

PARTS: aluminium heat exchangers: radiators, condensers, evaporators, CACs, WCACs, oil coolers, heater cores, battery coolers, stationary condensers,heat sink plates

TECHNOLOGY: contolled atmosphare brazing
/

Atmosphere furnaces for other industries

PARTS: steel,  crankshafts and camshafts, bushings, valve springs, suspension springs, piston rings and pins, gears and toothed shafts, hydraulic pump components

TECHNOLOGY:  carburizing, nitrocarburizing, hardening, tempering,  gas nitriding, controlled atmosphere hardening, nitrocarburizing and carburizing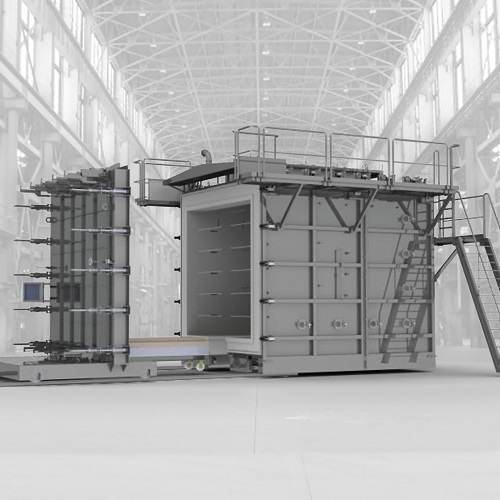 PARTS: construction materials.building materials
TECHNOLOGY: Fire resistance test
INDUSTIRES: construction industry, technical Institutes
/

Aluminum furnaces for other industries

PARTS:  coils and foils, sheet, castings, tubes and extrusions, castings, aluminum plate, aluminum forgings, aluminum extrusions, billet preheating

TECHNOLOGY: solution HT, aging, annealing, stress relieving, nonferrous melting, extrusion scrap melting, shredded scrap melting, return scrap melting, holding nonferrous melting, extrusion scrap melting, shredded scrap melting, return scrap melting, holding nonferrous melting, extrusion scrap melting, shredded scrap melting, return scrap melting, holding